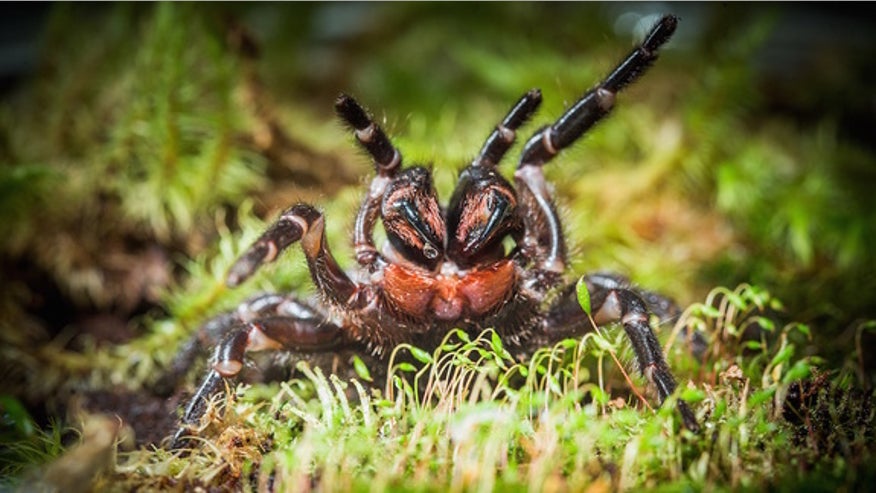 Most people likely wouldn't react well to being surprised by a venomous spider, but recently, scientists at Booderee National Park, on the southern coast of Australia, were excited when a highly venomous funnel-web spider showed up unannounced.
Many species of funnel-web spiders, named for their funnel-shaped webs, are indigenous to Australia, but only one of these species, the Sydney funnel-web spider, is known to live in Booderee National Park.
Sydney funnel-webs (Atrax robustus) are ground-dwelling spiders with highly venomous bites that, before the development of an anti-venom, posed a serious medical risk to humans. Funnel-webs, including Atrax robustus, were believed to be responsible for at least 13 deaths in Australia before the anti-venom became available, in 1981. [Creepy, Crawly & Incredible: Photos of Spiders]
But the spider found along Australia's southern coast by scientists from the Australian National University (ANU) wasn't Atrax robustus. In fact, it might be a brand-new species of funnel-web spider, said Thomas Wallenius, a biologist at ANU's Research School of Biology and one of the scientists who uncovered the arachnid.
"It's remarkable that we have found this other species in Booderee National Park. It shows we still have a lot to learn about what's out there in the bush," Walleniussaid in a statement.
The nearly 2-inch-long (50 millimeters) specimen is fairly large for a funnel-web spider, the researchers said. And unlike the Sydney funnel-web, this critter lives inside of fallen trees, not in underground burrows. This suggests that the newfound spider belongs to the genus Hadronyche, which consists of funnel-web spiders that are saproxylic, or dependent on dead or decaying wood for survival.
When Wallenius found the spider, it was burrowed in its "lair," a long web inside of a rotten log.
"They build a silk-lined burrow inside the hollow log, which can be up to 2 meters [6.6 feet] long. She had probably been living in there for 25 to 30 years," Wallenius said.